Announcement**
I am pleased to announce that I have accepted the position of Western Region Sales Manager for Gefco, The George E. Failing Company, a Division of Astec Technology Inc..
My current rig sales and marketing territory will include California, Oregon, Washington, Nevada, Utah, Idaho, Hawaii, and Alaska, and will cover rigs for all facets of the drilling industry, including water wells, oil & gas, mining & exploration, geothermal, geotechnical, and construction drilling.
I have shut down my Drilling Equipment Sales Division, Consulting Division, and have placed our Drilling and Pump Division on in-active.
We are closing down our water charity, Clean Water Saves Lives.Org, however we will still help support other charitable water causes through equipment donations, free advice, and referrals.
Thank you for your friendship and support for the last 32 years, and hopefully for the next decade.
Regards,
Jon Newsom
Dave, Joe, & Tyler, with Joe Fain on ground
SS-70K-DE 70,000 pound Top-Head pullback and 500 PSI Compressor
Joe Fain Drilling New 70K-DE Startup
Joe Fain's New Gefco Speedstar SS-70K-DE
70,000 pound tophead hoist, 1000 x 350/900x500 air, and mud
DA Harmon Gefco, Jim Stefanic & Raul Lyon Geotec,
on right are Geotec-Boyles Bros SA Customers From Chile, inspecting Ormat GeoDrill's SS-185K Mina NV
Richard Alexander A&A Pump Accepting New SS-22 HD
18" retracting rotary table, 7-1/2 x 10 mud pump, triple-drum draw-works
Derrick Moreira of Hilo, Hawaii buying SS-90K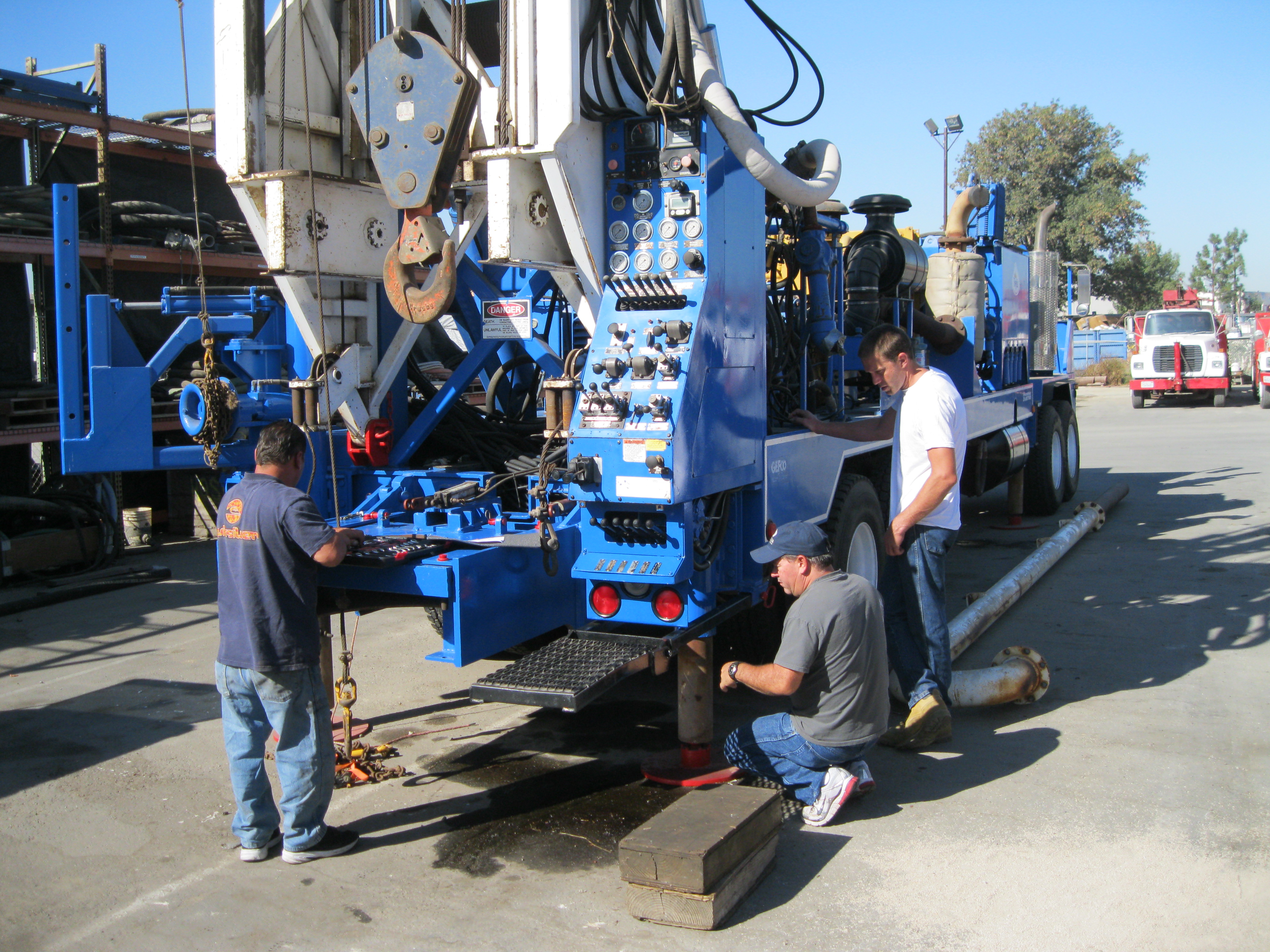 Darrel Moreria, Derrick Moreira, and Son Casey
Sale of Used SS-185K To Island Drlg Guatemala
Steve Riley and Thomas Mifsud Purchased Like New SS-185K For Guatemala
S A Camp Pump Co New SS-40T Flooded Reverse Rig
140,000 pound hoisting capacity, 18" table, 6" ID Swivel
Floyd & Steve Arthur, A&O Well With New SS-22 HDM
Floyd, Steve, and Jon
Art Beatty Geo-Tec Boyles SA Purchasing SS-40T
Ralph Anderson left & Al Cooper Right Owners Arizona Beeman Drlg
Anthony & Pamela Prieto's New SS-22 Reverse Rig
18" Rotary Table, 6" ID Reverse Kelly and Swivel
Vic Morrow Of Scorpion Drilling w/ new SS-185K
Henry Valdez and Vic Morrows SS-185K, For Drilling Methane GasWells ~8,000 Ft
Scorpion Drilling With Their New SS-185K_Tophead
GEFCO Speedstar SS-185K with 185,000 Pound Pullback
Cal-Water Drillng With New SS-22 Flooded Reverse
Curtis and Blake Hennings New 6" Flooded Reverse Rig
Palm Springs Well & Pump New SS-40T Reverse Reg
GEFCO Speedstar SS-40T Set up for Flooded Reverse
Maggiorra Brothers New SS-50K Delivery
New Speedstar SS-50K w/ 50,000# top-head Pullback, 1000 x 350 air, 4 x 3 mud
Gordon Jensen Western Strata Expl W/ New SS-30K
Christmas With A Brand New Rig!!
Ormat /Geo-Drill With Their SS-185K Geothermal Rig
Ormat - Geo-Drill's SS-185K Top-head Rig On Site
Beylik Drilling - Hawaii New SS-40T Tbale Drive
18" Rotary Table, Double Drum Draw-works
Johnny Baldwin New SS-50K & Moreria Brothers Maui
New SS-40T For Water Resources Int Hawaii Big Island
Dave Jannsen of SoCal Pump Accepts new SS-22 HDM
Rig has 18" Retractable Rotary Table, & double drum draw-works
Salinas Pump 50K with Pinky Davis and Frank
SS-50K after 7 years of Drilling, 4x3 mud, 1000 x 350 air, 50,000# tophead hoist, 25,000# SLP jib
Bill Godwin of Beylik Hawaii With New SS-90K 2/06
Bill Godwin w/ New Speedstar SS-90K Start-UP North Kohalla Coast Feb 2006
New SS-110K Gas & Oil Top Head Drive Rig
SS-110K Big Hole Rig with 110,000 lb Top-head hoisting capacity
Matt and Larry Rottman With Their New SS-50K Drill
Hard Working. Matt & Larry New SS-50K February 2006
Mtn. Hydro Delivery August 2004
Gary Stooksberry, Owner Mtn. Hydro Systems, Receives A New Speedstar SS-30KDH From Jon Newsom 8-04
Our New Rig Sales Second Half of 2004
New Speedstar SS-50K Casing Hammer Rig Cascade Drilling 11-15-04
New Rig Sale September 2004 LO Lynch Well
Josh & Ken Swarthout, & Emil Worm, LO Lynch Well W/ New SS-30K, Jon on Right 9-04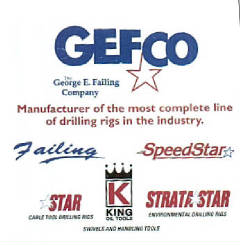 Another New Speedstar Rig Sale September 2004
Steve and Floyd Arthur With Their New SS-30K-DH (Deep Hole)9-04
Ted & Adelle Pulliam's New SS-30KDeep Hole Rig
First Hole With Ted's New SS-30K DH (SS-40K)